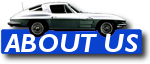 K.C.C. was established in 1960, making it one of the oldest and most respected organizations devoted to promoting an automobile and it's heritage. We belong to the NATIONAL COUNCIL OF CORVETTE CLUBS INC. The N.C.C.C. ties the K.C.C.and you to over 250 other clubs nation wide. All of these clubs have representatives who attended regular meetings to formulate competition and safety rules for all the clubs. This allows for competition throughout the nation with a common set of rules.

K.C.C. has shown its ability to organize, promote and produce hundreds of competitive events over the years, tailored to both the novice and veteran enthusiast.
INCLUDED IN THE AVAILABLE ACTIVITIES THROUGHOUT THE YEAR ARE:
■SOCIAL EVENTS (fun!)
■DRAG RACING
■AUTO CROSSING
■RALLYS
■ECONOMY RUNS
■CRUISING
■FUNKHANAS
■CAR SHOWS
■PARADES
■ONE DAY TRIPS
BELOW OUTLINES SOME OF THE ADVANTAGES
KALAMAZOO CORVETTE CLUB AND NATIONAL COUNCIL OF CORVETTE CLUBS
OFFERS ITS MEMBERS.
■Monthly Newsletter
■Name Badge
■Patches
■Discounts
■Annual convention
■Charity Activities
■Blue Bars N.C.C.C. Magazine
Why not contact us for more information today??? You must be 18 years old and own a CORVETTE